Affirmation of Taurus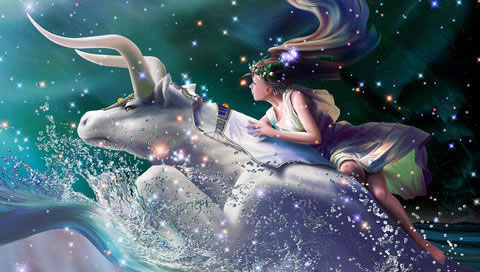 (Artwork by Kagaya)

I was born under the sign of Taurus
I accept all its power, potentials, and gifts
I am the Settler of the zodiac;
I use stability and persistence
for the benefit of myself and others,
in whatever capacity I choose
as appropriate
The key for tapping into my deepest resources
is the ever-increasing acceptance of myself,
of who I am now and what I wish to become.
I can see, hear, and feel myself,
day by day, month by month,
moving toward the perfection of my talents,
the deep integration of all my aspects
but trusting myself,
by continued used of my unique gifts.

I accept fully my sustained manifestation of energy
the refinement of what I've already accomplished
by concentration and sharp focus,
persistence and patience.

I accept fully my ability to build
solid foundations
and to manage my many resources well.

I accept my practical common sense.
I accept the value I place on quality.
I accept fully my ability to nurture and cultivate.
I accept my ability
to hold the line against opposition
with appropriate flexibility.
I accept my natural unhurried rhythm,
my ability to work hard and then relax well.
I accept fully my ability to see beauty
and appreciate the blessing of comfort
I appreciate my sense of proportion
and my sense of humour
I am careful, purposeful and determined.
I am protective, sensitive and understanding.

I am composed, calm and affectionate.
I am practical and very productive.
I am strongly determined in matters
where it is appropriate
and I am a faithful friend.

I can manifest a deep quiet joy.
A very deep, very quiet joy.
I serve as a steady influence for others.
I appreciate tranquillity and contact with nature.
I can manifest a strong vitality.
Through changing circumstances I can persevere.
I am contemplative
and faithful to my spiritual goals.
After weighing a matter, I make good decisions.
My feet are on solid ground
and I enjoy the basics of life.
I can give form to ideas
I can strongly manifest the power of quiet persistence
I establish roots,
nurture flourishing growth.
I return when my endeavours bear fruit
and I retain and conserve what is worthwhile.
I am patient and I am thorough.
I love myself and trust myself
to live my life
in right action
steadfastness
effectiveness,
and peace.
It is my destiny.
Now I choose
to shape my future
in a balanced dance
between comfort and challenge
~Changing your Destiny - Orser & Zarro~

The artwork used on the Affirmation of the Signs is by the wonderful artist Kagaya and is of course copyrighted to him. Please take time to visit the Kagaya gallery by clicking either on the large picture on the individual pages or on the link below and the site will open in a separate window..


Visit the Esoteric Astrology Message Board/Guest Book
Man cannot discover new oceans
Until he has courage to lose sight of the shore~